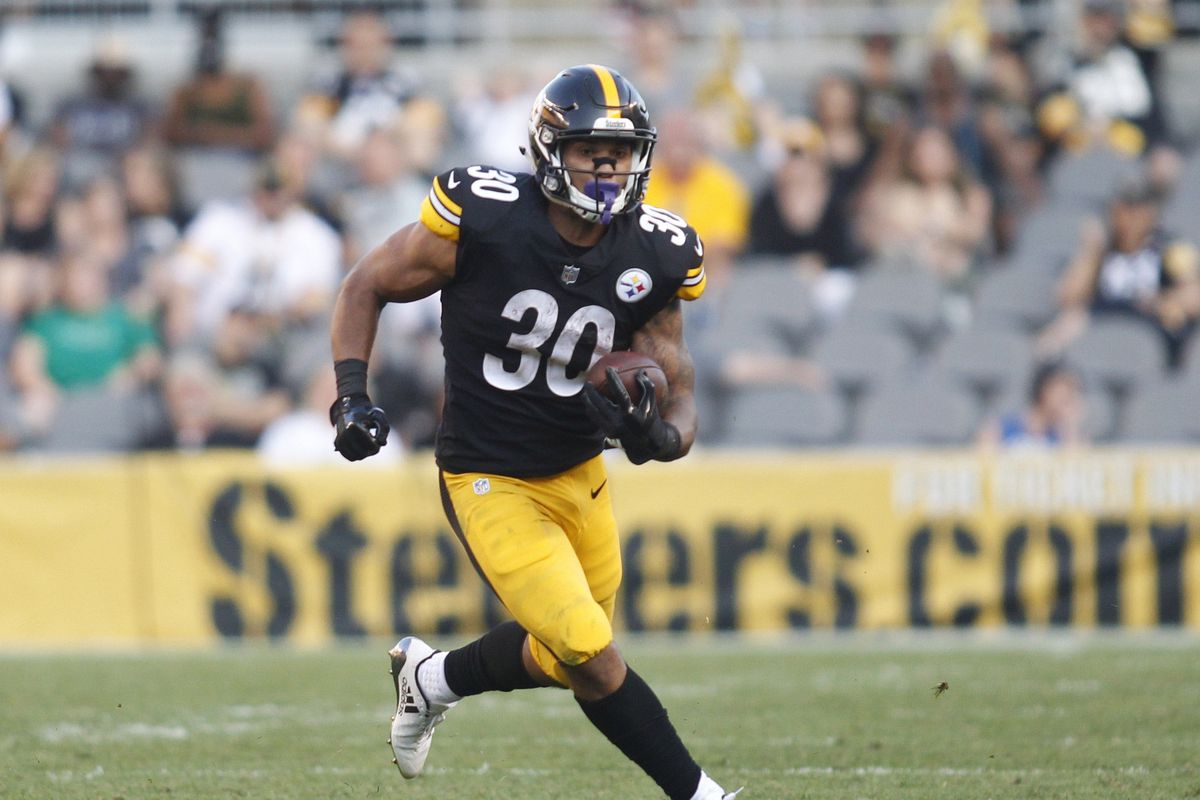 PAST PRODUCTION
James Conner was drafted by the Pittsburgh Steelers in the 3rd round of the 2017 NFL draft. He was quiet in his rookie season. But, when Le'Veon Bell held out in 2018, James Conner broke out in a big way. He finished as the RB6 with over 1,400 total yards, 55 receptions, and 13 TDs. Conner dealt with multiple injuries in 2019, appearing in just 10 games. His efficiency regressed as the Steelers offense crumbled in the absence of Ben Roethlisberger, but he still finished as the RB17 in PPR PPG. 
2020 OUTLOOK
In 2020, Conner should continue to operate as the clear starter. But, there are reasons to believe Conner's days as an RB1 are over. The Steelers spent a 4th round pick on RB Anthony MacFarland. They also chose to retain both Jaylen Samuels and Benny Snell. Considering Conner's extensive injury history, the team may choose to limit Conner's workload by giving each of those role players a few touches per game. Furthermore, he likely won't be as efficient or involved in the passing game as he was in 2018. The offensive line has declined, and a 10.5% target share won't yield 71 targets unless Ben Roethlisberger attempts 675 passes again, which is highly unlikely. 
Look for Conner to perform as a mid to low-end RB2 in 2020 when he is healthy. He should be considered after players like Leonard Fournette, Le'Veon Bell, Chris Carson, Melvin Gordon, and David Johnson are off the board. 
DYNASTY ANALYSIS
The future for Conner is unclear. Even if the Steelers would like to keep him around long-term, they will have a hard time resigning him following the 2020 season due to their cap situation. On the open market, Conner will have to compete with a star-studded free-agent class that includes Joe Mixon, Alvin Kamara, Leonard Fournette, and many others. His injury history could prevent him from seizing a large contract or even a starting role. In which case, we've already seen the best of Conner. 
If you own Conner in a dynasty league, consider your roster. If you think you've got a shot at the championship in 2020, hold onto him as he's likely more valuable to your team this year than any assets you'd receive in a trade. If your team is rebuilding, wait for Conner to have a big game and try to sell him to a contending team for future picks or young players.
Thanks for reading this article! Look me up on Twitter at @fantasyfreezer if you'd like to hear more from me. I love answering fantasy questions, discussing trades, and engaging in friendly debates, so be sure to drop in and say hello.