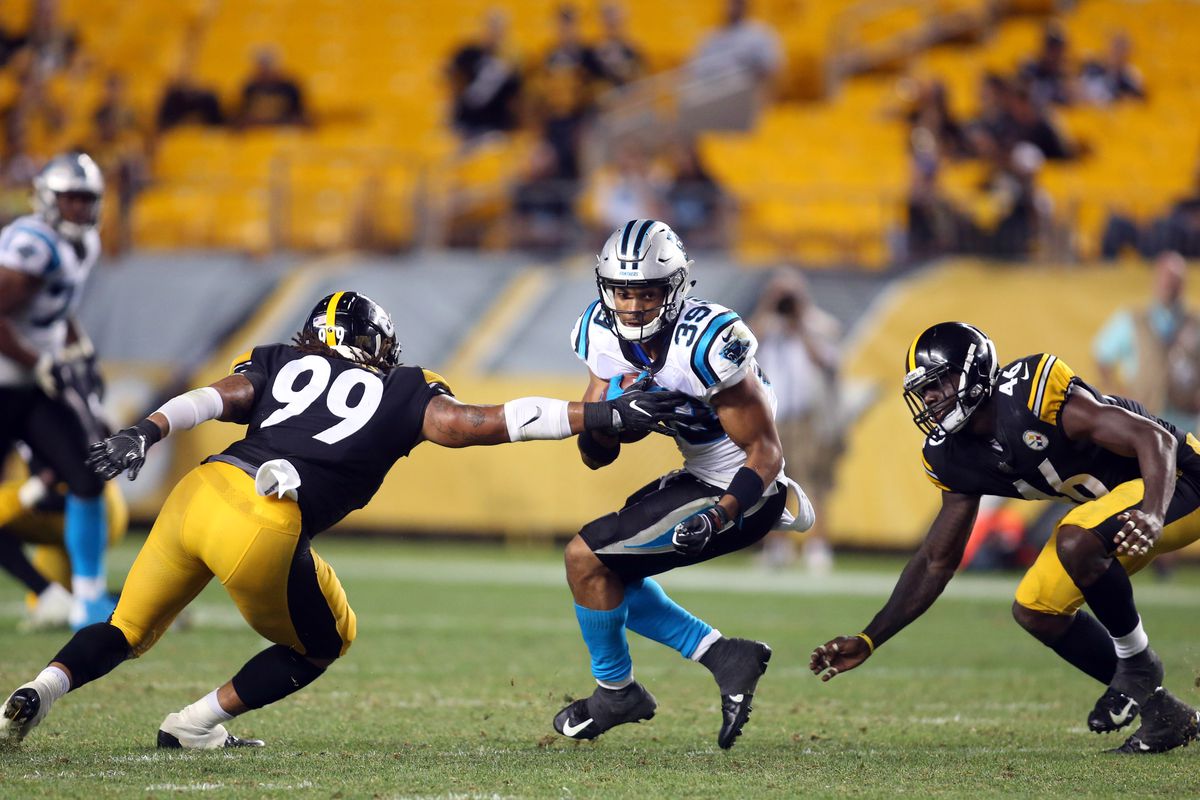 Injuries and a few big plays provide us with most of our waiver wire suggestions this week. Bye weeks are now in full swing as well with Buffalo, Indianapolis, Oakland, Chicago all on bye in Week 6. One of these players could be the next big thing or a valuable piece to your playoff run. Make sure you are checking your waiver wires every week and continuing to make moves to improve your rosters. Let's get to it.
---
We hope you enjoy this article. If you're not a Factory Sports member, please consider signing up to become one. You can do so right here: Factory Sports memberships.
---
Devlin Hodges – QB – Pittsburgh Steelers
Already dealing with a season-ending injury to Ben Roethlisberger, the Steelers could ill afford another quarterback injury. But another quarterback injury is what befell them on Sunday. Mason Rudolph was hit helmet to helmet on the below play and then had his head bounce sickeningly off the turf.
Mason Rudolph knocked out on this hit. No flag. pic.twitter.com/zjs92AI904

— Alex Kozora (@Alex_Kozora) October 6, 2019
As always, I'll preface this with the disclaimer that I am not a doctor. Rudolph suffered what looks like a severe concussion Sunday. I would expect Rudolph to miss at least next week's game, if not more. Seeing Rudolph helped off the field (due to a broken medical cart. Great job NFL), leads me to believe this will be a multiple week injury.
Mason Rudolph had to be carried off the field because the medical cart malfunctioned. pic.twitter.com/186nVyVxtp

— NFL Update (@MySportsUpdate) October 6, 2019
In his place stepped Devlin Hodges. Before Sunday, I wasn't even aware that Hodges existed. Scouring the internet, I found this piece from the Sporting News that shared some helpful facts about Hodges. Hodges was an undrafted free agent who won the FCS Walter Payton as the offensive player of the year last season. On Sunday, he stepped in and went seven for nine for 68 yards and adding 20 additional yards rushing. Hodges completed 69% of his passes during his four seasons starting for Samson University. He also tuck and ran the ball 370 times during his college career, though his YPC was an ugly, bad 2.7 yards.
During a season when a sixth-round quarterback, Gardner Minshew, is putting up 18 points a week (before his likely top-five week against Carolina on Sunday), there's no reason to think that Hodges can't step in and produce at least a streaming level. In Superflex leagues, Hodges is a must-add this week.
Matt Moore – QB – Kansas City Chiefs
We talked about this last week. Backup quarterbacks should be owned in Superflex leagues. The Chiefs backup QB has no business still sitting out there on waiver wires. Pick him up now! Mahomes had his ankle stepped on in the third-quarter and was limping around even before that. If anything were to happen to Mahomes, Matt Moore steps into an offense that has Tyreek Hill, Travis Kelce, and Mecole Hardman. With Andy Reid calling plays. Pick him up.
Reggie Bonnafon – RB – Carolina Panthers
Entering Sunday's action, Christian McCaffrey had handled 85% of all rushing attempts for the Carolina Panthers in addition to having a 27% receiving share. That's a massive workload. The Panthers are almost inviting an injury to McCaffrey. Sunday was par for the course, with McCaffrey touching the ball another 26 times, including a pass attempt. One wrinkle was another running back getting to touch the ball. On his second rushing attempt of the day, Reggie Bonnafon broke free for a 59-yard touchdown.
Rushing touchdown by Reggie Bonnafon

Only 2 touches prior

Car 34- Jax 27 pic.twitter.com/nrwTwqJJfy

— Laurie Fitzpatrick (@LaurieFitzptrck) October 6, 2019
He finished his day with 80 yards on five rushing attempts. A couple of caveats must be applied to Bonnafon's day. The Jaguars defense didn't look very much interested in actually pursuing him on his touchdown run. Four of his five rushing attempts didn't come until the 4th quarter. His five rushing attempts on the day give him seven for the season, along with one target. Bonnafon has little value unless the Panthers shift their offensive philosophy of "Give the ball to Christian McCaffrey all the time" or an injury to McCaffrey. If either of those things were to happen, he would hold immense value.
Tra Carson – RB – Green Bay Packers 
You may have overlooked Carson's day with Aaron Jones scoring four touchdowns and putting up 182 yards against the Cowboys. That's fair. Carson had a decent day, too, relatively speaking. He had 14 rushing yards on six carries and added four receptions for another 18 yards. Carson has jumped Dexter Williams on the Packers depth chart and is the backup RB until Jamaal Williams returns.
Byron Pringle – WR – Kansas City Chiefs
It doesn't matter who you are. If you play wide receiver for the Chiefs, Patrick Mahomes can put you into the conversation for WR1 upside every single week. Tyreek Hill has been out since suffering a clavicle injury early in Week 1, but Sammy Watkins picked up the slack and finished as the WR1 for the week with 46.8 fantasy points. Week 2, Demarcus Robinson finished as the WR1 with 35.2 fantasy points while Mecole Hardman finished as the WR25 on the week. Hardman finished as the WR19 and Robinson as the WR33 in Week 3. Robinson was the highest-scoring Chiefs wide receiver last week, finishing as the WR50, in a down week for Mahomes.
Sammy Watkins went down in the first quarter Sunday night with a hamstring injury and was unable to get back on the field. Watkins has a pretty significant injury history, so I'll assume he will probably miss next week too. Through three-quarters of Sunday Night Football, Byron Pringle stepped up in a significant way in Watkins' absence. Pringle saw eight targets, with five receptions for 76 yards and a touchdown.
Pringle is available in 65% of the dynasty leagues I play in (let's just say it's over 40 leagues and leave it at that). Despite going undrafted in 2018, Pringle was productive in college and has 4.46 speed. More importantly, Pringle is free in dynasty leagues. If you can get any piece from the Chiefs offense for free, you'd be a fool not to.
Duke Williams – WR- Buffalo Bills
With Buffalo on a bye next week, you should be able to pick up Williams after your initial waivers run this week. The former Auburn wide receiver played in the CFL in 2017 and 2018. After a solid first season with the Edmonton Eskimo's in 2017, Williams absolutely shredded defenses last season with almost 1,600 yards receiving.
On Sunday, Williams secured all four of his targets for 29 yards and added the game-winning touchdown in his first game with the Bills after being activated on Saturday. At 6'3″ and 225 lbs. Williams brings a different dynamic to the Bills wide receiver corps. compared to John Brown, Cole Beasley, and Zay Jones. Speaking of Zay Jones, entering Sunday's action, he's had a disappointing season. He has just seven receptions for 69 yards and could find himself relegated to the bench full-time going forward. Williams is a pickup in leagues with the deepest of rosters.
Olabisi Johnson – WR – Minnesota Vikings
Johnson was a seventh-round draft pick in this past April's NFL Draft. He's an above-average athlete, who comps to the highly coveted Deebo Samuel, per Mockdraftable.
Though his college production wasn't especially impressive, the Vikings liked him enough that they cut former first-rounder Laquon Treadwell (since re-signed with the Vikings) instead of Johnson before the season.
After being inactive the first three weeks of the season, Johnson has back to back weeks with four targets. He has eight receptions for 78 yards. The Vikings face the Eagles, Lions, Washington, and the Chiefs in their next four games. Each of those offenses have shown an ability to put up points, and Minnesota likely will be forced to throw a good bit to keep pace. That should keep Johnson involved enough that he's a viable streaming option during the upcoming bye weeks.
That's all for this week. As I said earlier, make sure you are checking your waiver wires every week. Every league is different, whether it's due to league size, owner's acumen, or format. Just because I don't list a player as a waiver wire recommendation doesn't mean that you shouldn't pick them up. I focus on deep stashes, on the assumption that more obvious players (Chase Edmonds, for example) aren't available. But this article is for. So if you want me to expand the options, I provide or even switch up the format, just let me know. As always, thank you for reading!
We hope you have enjoyed this article. If you already not a Factory Sports member, please consider signing up to become one. You can do so right here: Factory Sports memberships.