New beginnings often provide a sense of hope, excitement, and optimism. The hiring of a new head coach by an NFL team can take those feelings to a whole new level.
Cardinals are giving new HC Kliff Kingsbury a four-year deal, with a team option for a fifth year, per league source.

— Adam Schefter (@AdamSchefter) January 8, 2019
Ask any Arizona Cardinals fans how they've felt since the hiring of former Texas Tech football coach Kliff Kingsbury on January 8th of this year. The response you'll get will likely include many of the feelings I mentioned above. After a season in which the Cardinals ranked at or near the bottom in most offensive and scoring categories, the hiring of a young, up and coming offensive guru certainly injected some much-needed energy into the Cardinals fanbase.
One player many fantasy owners were keeping an eye on heading into the 2019 season was Cardinals wide receiver, Christian Kirk. His promising rookie campaign, in a putrid offense, was cut short by a broken foot suffered in Week 13 of last year. Kirk landed on the Injured Reserve and missed the last four games of the season.
Before we project the future dynasty potential of Kirk, let's take a look at what drew the Cardinals to him as he was coming out of college. We'll also look at how he's progressed as an NFL wide receiver through a year plus in the league. And finally, what the new Cardinals offense under head coach Kliff Kingsbury and his Air Raid offense means for Kirk from a fantasy perspective.
---
We hope you enjoy this article. If you already not a Factory Sports member, please consider signing up to become one. You can do so right here: Factory Sports memberships.
---
Looking Back
Christian Kirk had a productive career at Texas A&M. He totaled at least 70 receptions, 900 receiving yards, and seven touchdowns in each of the three years he was there. As I have mentioned in prior articles, the Big 12 Conference is often known for high scoring games, so that should be taken into account when evaluating players. Production is still production, and Kirk delivered consistently each year.
Stats courtesy of Sports Reference
The Cardinals drafted Christian Kirk in the middle of the 2nd round in the 2018 NFL Draft. As the fifth wide receiver selected in the draft, his draft capital alone speaks volumes to what the Cardinals were looking for in their young investment.
With the prototypical size (5'10" / 201 lbs) of a slot receiver, Kirk's overall measurables are not off the charts, but he's exceptional at sticking to his strengths. His combine metrics are not elite.  But his dominator rating (36.8) and breakout age (18.8) suggest he's comfortable handling a high volume role in an offense, per Player Profiler. 
During his rookie season with the Cardinals, Christian Kirk was a critical piece of the offense right from the start. A data point that stood out to me when reviewing some of his production from the 2018 season was his snap share. While it's not unusual for a rookie wide receiver, especially a second-round pick, to see the field right away, in the 12 games Kirk played, he was on the field for at least 63% of offensive snaps every game. 
In his final four games of the 2018 season, he played on 85% of snaps or higher and averaged a 23% target share.
Christian Kirk displayed flashes of a being promising wide receiver on several occasions during his first year in the league. Take a look at the following route.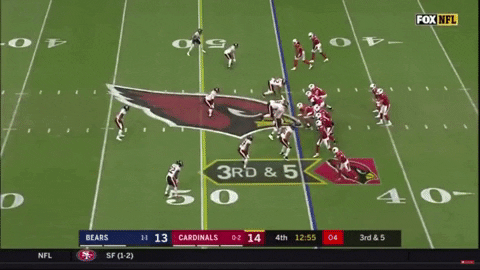 If you watch the bottom left corner carefully, you see a fantastic route the leaves Kirk wide open for a sizable gain along the left sideline. Subtle, specific movements along a route like this are huge to see in a first-year wide receiver. Kirk may not be able to beat guys with blazing speed over the top, but he's more than quick enough to work in short to intermediate areas that can allow him to thrive as both a volume receiver as well as someone who can generate yards after the catch.
Here's an example of a touchdown from his rookie season.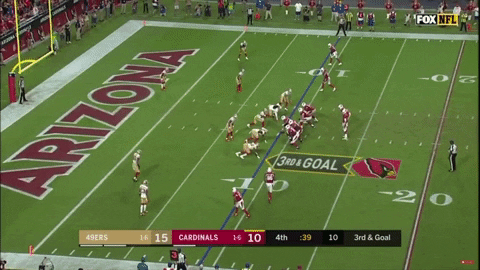 Great wide receivers know where they want to end up when the ball is thrown even before the play begins. Kirk finds the soft spot in the coverage and gives his quarterback the perfect window in which to thread the pass. He knows he's likely going to take a hit in the back of the end zone but does an excellent job securing the catch before absorbing the hit.
Unfortunately, as mentioned earlier, he suffered a broken foot in Week 13 and was placed on IR for the remainder of the year. This past offseason was focused on rehab for Kirk and rehab for the entire Cardinals offense. The hiring of Kliff Kingsbury and the subsequent drafting of Kyler Murray as the 1.01 in the 2019 NFL Draft heightened the expectations from an already optimistic fanbase who were looking for their franchise to make a turnaround this season.
Looking Ahead
The first quarter of the season has not gone well from a wins and losses standpoint for the Cardinals. While some growing pains are to be expected from a team that finished at the bottom of the league last year, who are also integrating a rookie head coach and a rookie quarterback into their system, there have been some areas that suggest Cardinals fans should still be optimistic. The 1-3-1 start is not ideal, but there are flashes of this team and this offense that bode well for the future.
For Christian Kirk, in particular, his second year in Arizona comes with a team that drafted three wide receivers in the 2019 draft. While it's not unusual for a new head coach to draft "his guys", especially guys that compliment his choice at quarterback (sorry, Josh Rosen), the sudden depth at the wide receiver position left some wondering just how productive Kirk could be.
The additions of rookie wideouts Andy Isabella (2nd round), Hakeem Butler (4th round), and Keesean Johnson (6th round), coupled with veteran Larry Fitzgerald, and Pro Bowl running back David Johnson, left Christian Kirk in a situation where there were potentially going to be many mouths to feed on this offense. Fortunately for Kirk, he entered this season healthy and ready to go. Take a look at some of his stats from the first four weeks.
As you can see, Kirk is not lacking for an opportunity as he rarely comes off the field. Opportunity is one of the biggest predictors of future fantasy success. It's tough when a player only sees the field for a few plays but breaks off big plays and long touchdowns. Kirk is seeing a consistent, high volume of snaps that he is generating into fantasy success. While he has yet to find the end zone, owners can't complain about the production he is generating, especially in PPR formats.
Unfortunately for Christian Kirk, he suffered an ankle injury late in his Week 4 matchup against the Seattle Seahawks. As of this writing, he is expected to miss Week 5, but the ankle injury in question does not appear to be as serious as the team first thought. It will be something for fantasy owners to closely monitor as they will likely have to make adjustments to their lineups should Kirk miss this week and any games in the weeks ahead.
Christian Kirk is a centerpiece of the Arizona Cardinals offense and, assuming full health after this latest ankle injury; he should continue to be on the field for the vast majority of the offensive snaps. Keep an eye on the depth that Arizona has as the wide receiver position. Andy Isabella (5'9" / 188 lbs) has a similar slot receiver play style that Kirk does, but has yet to see the field for any meaningful work this season. That could change in Week 5 or the weeks ahead should Kirk miss any significant time.
As for the other rookies in Hakeem Butler and Keesean Johnson, Butler was placed on Injured Reserve before the team finalized its 53 man roster, which means he is ineligible to return this season. Johnson has seen the field a bit through four weeks, but it's been Damiere Byrd who has been operating as the third wide receiver in three WR sets along with Larry Fitzgerald and Christian Kirk.
If you are someone who currently owns Christian Kirk, he's an absolute hold, both in redraft and dynasty leagues. He's dynamic with the ball in his hands and getting a ton of opportunity on the field. If you do not own Kirk in your dynasty league, I would make offers for him, especially on the premise of his ankle injury. 
While it doesn't sound serious, owners can be irrational and make short-term decisions based on immediate information. Capitalize on those instances. I would have no issue offering a future second-round pick + for him as I see him being a volume-based fantasy asset who can be productive WR2 in that role for a long time.
It may take a bit for Kliff Kingsbury, Kyler Murray, and the Arizona Cardinals Air Raid system to get off the ground. Christian Kirk is in a prime spot to capitalize on the moment that it does. He's already averaging 9.2 targets/game along with a 93% snap share. He has a defined role, has proved that he can do it well, and will only grow as a player as he becomes more familiar with the potential of this offense.
Thanks for checking out my article! For more fantasy football content, follow me on Twitter @Samuel_DFF.
We hope you have enjoyed this article. If you already not a Factory Sports member, please consider signing up to become one. You can do so right here: Factory Sports memberships.