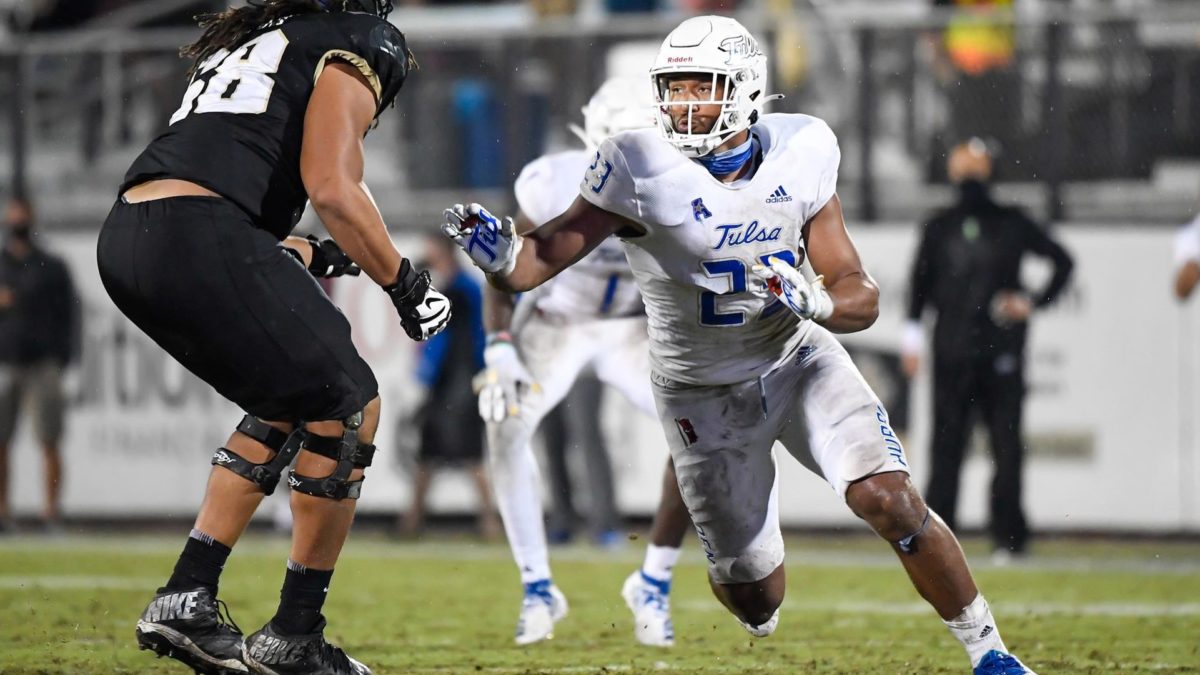 Zaven Collins | TULSA                    6'-4" 260 lbs.                   5/19/1999 (Age 21)
Zaven Collins was drafted 16th overall by the Arizona Cardinals, becoming the second linebacker selected in the 2021 NFL Draft.
COLLEGE PRODUCTION
Zaven Collins played offense in high school outside of a large institution that would have earned him attention from Power 5 schools. This led him to a redshirt season as a tight end at mid-major Tulsa. He got onto the field as a linebacker thanks to injury in his second year on campus and emerged as a Freshman All-American. Collins became an all-conference performer as a redshirt sophomore in 2019 and was recognized as the best defender in the country in 2020, earning the Bronko Nagurski and Chuck Bednarik awards on top of All-American honors. 
ATHLETIC TESTING
Zaven Collins's pro-day numbers reflect those of an NFL strong-side linebacker that frequents the edge of the defense rather than the heart of the defense associated with an inside linebacker. Some reports had him at nearly 6'-5" tall and 270 pounds. That's as big as the top edge defenders in the 2021 draft class, Kwity Paye and Jaelen Phillips. Collins is a distinctly oversized off-ball linebacker with premium athletic ability that places him well within the top quartile of linebackers since 1987. As such, NFL.com draft analyst comps him to Dallas LB Leighton Vander Esch, who appears likely to shift to SAM in 2021 with Micah Parsons on the Cowboys roster.
DRAFT ANALYSIS 
Rapid Reaction to Draft Capital: Excellent
Rapid Reaction to Landing Spot: Poor
For the second straight year, the Arizona Cardinals spent a pick in the top half of the first round of the NFL draft on a linebacker. These picks come on the heels of signing high-upside middle linebacker Jordan Hicks to a big free-agent contract. The simple selection of an off-ball linebacker qualifies as "excellent" draft capital. 
Collins's landing spot in Arizona is poor due to the crowded LB room and the uncertainty in his role based on his size and his competition for snaps. Additionally, Collins played a relatively small proportion of his snaps in coverage at Tulsa and even then faced lower-level competition in the AAC.
While conventional wisdom pegged Collins as an outside linebacker akin to Patriots Matt Judon or Kyle Van Noy, Steve Keim surprised draft twitter in a post-draft interview by identifying Collins as the Cardinals' future "MIKE." Jordan Hicks, a linebacker of more conventional size but also elite athleticism has filled that role for the past two years. Hicks's cap hit is the same on the Cardinals' 2021 roster on or off of it: $6 million.
When Hicks arrived in Arizona in 2019, defensive coordinator Vance Joseph ran a fairly conventional 3-4 that required the middle linebacker to fit gaps and flip his hips to run with tight ends. Hicks appeared to Cardinals' brass well-suited for this role. Unfortunately, Hicks hasn't lived up to expectations in coverage in the desert. 
The Cardinals selected Isaiah Simmons in the 2020 NFL draft. General Manager Steve Keim specified that Simmons was brought in to cover tight ends. Simmons, however, was known to be inexperienced and possibly deficient as a conventional run-stuffing middle linebacker. These incongruities fueled speculation throughout 2020 about where Simmons would play. Your writer hoped Simmons would get a crack at Budda Baker's role. Baker might have slid back from strong safety to free safety to fill a glaring hole in the Cardinals' defensive backfield. 
Unless and until the Cardinals cut Jordan Hicks, the same uncertainty that clouded Isaiah Simmons's deployment last year will affect Zaven Collins this year. The Cardinals' edge defenders are a weak group that might benefit from new blood. Simmons and Collins both could be used creatively, outside the box, in ways that dampen their tackle efficiency by moving them farther from the football. Vance Joseph deserves some credit for modernizing his defense last year, but his challenge in maximizing his distinctive players' potential has only grown with 2021's 16th overall pick.
FANTASY INSIGHTS
A linebacker's path to fantasy success starts with his opportunity for snaps and continues through his opportunities for tackles. The hard lesson learned from the Isaiah Simmons experience in 2020 is that neither opportunity set can be counted upon from the Cardinals team in 2021.
IDP fantasy gamers tend to be too beholden to draft capital in player valuation. Other first- and second-round selections from the 2021 NFL draft should be considered at least as high as Collins by gamers navigating their own leagues' rookie drafts. As a general rule, a linebacker whose draft capital belies immediate opportunity should be faded in fantasy. 
This reaction is everything.

Welcome to the family, @ZavenCollins. pic.twitter.com/JdMFfIRgyo

— Arizona Cardinals (@AZCardinals) April 30, 2021
Thank you for tuning in to DFF's 2021 NFL Draft Coverage! Stay tuned as we break down every fantasy-relevant pick during the draft. Please consider becoming our yearly DFF subscription so we can deliver top-notch analysis and fantasy breakdowns. Our yearly subscription will save you $40 and lead you to fantasy championships.
Thank you for reading my article! If you would like to interact with me feel free to reach out to my @DynastyTripp Twitter account! Come join the #DFFArmy where I provide #FFIDP and dynasty content along with rankings for @DFF_Dynasty. #DynastyFootball #FantasyFootball