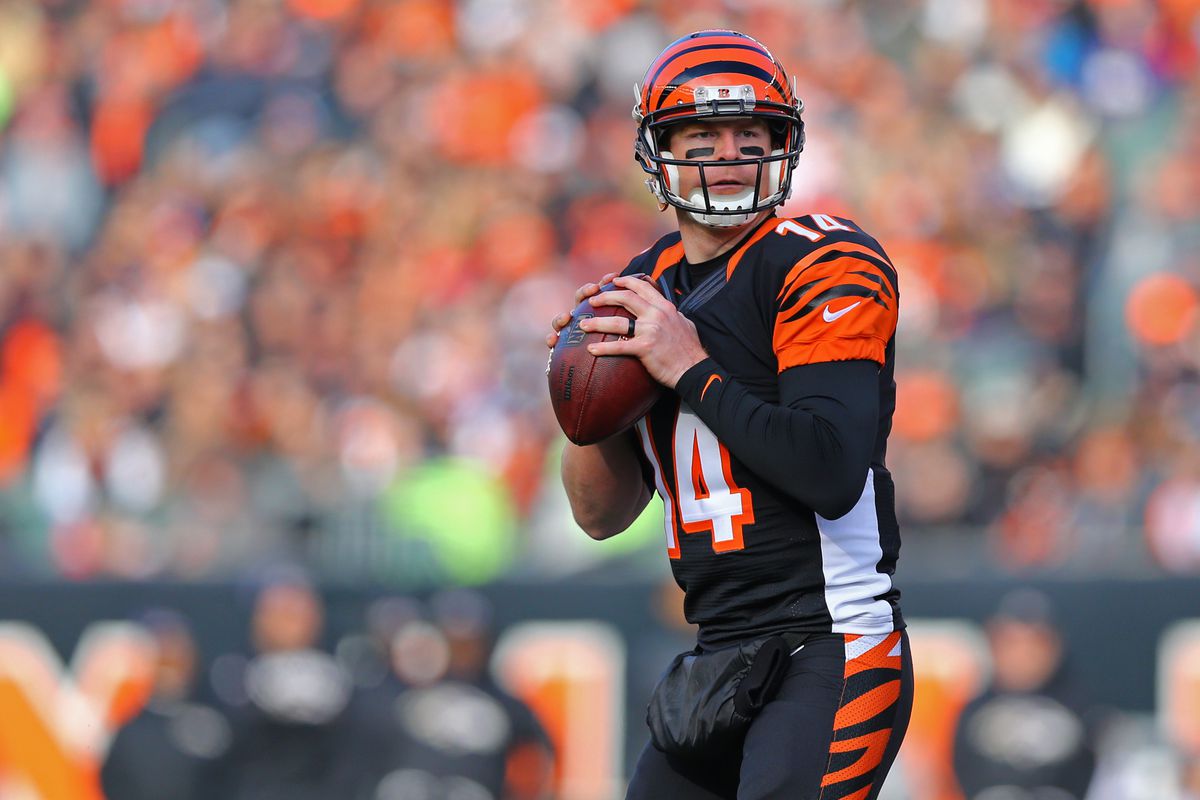 Welcome to the weekly Start/Sit column! Each week I'll aim to analyze upcoming games, research team injury reports, and check-in on any depth chart movement – all to offer you weekly start/sit recommendations.
The starts will feature players that may be on your bench or even on the waiver wire that need to be in your starting lineup. The sits feature more popular players that I think will underperform this week. I'll list a must start/sit for each position, then briefly touch on some other options that I like/dislike. While this is useful when setting your weekly lineups in your season long leagues, it can also be a valuable tool if you're playing daily fantasy sports (DFS).
First, in the name of accountability, here's a look back at my Must Sit/Starts from last week. The must-starts were solid; Baker Mayfield came through as the overall QB6 of the week, Royce Freeman and Greg Olsen each found the end zone, and Denver impressed as the number one DST for the week. Only Tyler Boyd disappointed as Andy Dalton seemingly forgot he existed for most of the game. The must-sits were all best left out of your lineup, with the possible exception of Jordan Howard, who did manage to find the end zone against the Patriots.
Onto week eight.  
Must Starts
Andy Dalton, QB, Cincinnati Bengals
Andy Dalton had a bad game in a good matchup against the Chiefs last week, but that doesn't mean he can't bounce back this week. Last week Dalton and the Bengals faced a good Chiefs team on the road, this week he gets to face a middling Buccaneers team at home. Dalton still has the 14th most fantasy points for quarterbacks this season despite finishing 24th in week five and 25th last week. He can always put up top-tier quarterback numbers when he has a good matchup. The Buccaneers have given up the most fantasy points to quarterbacks on average this season, making it the best matchup possible.
Raheem Mostert, RB, San Fransisco 49ers
It's rough out there for running backs between bye weeks and injuries. Desperate times call for desperate measures. You might be hesitant to start Raheem Mostert, a running back that was nowhere on the fantasy radar headed into the season. I'm here to tell you that you shouldn't be. First of all, it's an ideal matchup with the Cardinals, who are averaging the most fantasy points allowed to running backs this season. Second, the snaps and opportunities have been increasing for Mostert. Matt Breida has been banged up all year, and Alfred Morris seems to have lost favor in the 49ers backfield.
Mostert out-snapped Morris 45-21 over the past two weeks. He also got involved in the passing game last week, catching all four of his targets for 19 yards last week to go along with his 59 yards rushing. Don't be afraid to slot Mostert into your lineup this week if you've been hit hard by injuries or bye weeks.
Tyler Boyd, WR, Cincinnati Bengals
Boyd was a huge let down as my must-start receiver last week, but I'm so confident in a bounce-back performance that I'll double down and make my must-start again this week. For whatever reason last week Andy Dalton locked in on A.J. Green and completely ignored Boyd for the majority of the game. Boyd was actually on the field for 98% of the snaps last week, higher than any other receiver. Bad weeks are bound to happen in fantasy football, especially at the wide receiver position, but don't let one bad performance scare you away from starting Boyd in a great matchup.
Jared Cook, TE, Oakland Raiders
As the dumpster fire in Oakland spreads, Jared Cook is poised to be one of the few beneficiaries. Cook has already been the Raiders target leader, and that number should only grow with Amari Cooper being shipped to Dallas. Derek Carr is averaging over 38 pass attempts per game, and with Marshawn Lynch being put on injured reserve that number should only go up. Cook has been underwhelming the past two weeks, but he should be in line for even more targets this week and needs to be started in fantasy lineups.
Defense/Special Teams: Indianapolis Colts
The Colts aren't usually brought up with elite defenses in the NFL, but they've quietly been having a great fantasy season. As a unit, they have 21 sacks, nine interceptions, and six fumble recoveries. Now they head to Oakland to take on the reeling Raiders fresh off of losing Amari Cooper to trade and Marshawn Lynch to injury. It paid off if you streamed Indy against Buffalo last week, and it's probably worth rolling with them again this week
Other Good Starts
Baker Mayfield finished as the QB6 overall last week and now takes on the Steelers, who give up the 4th most fantasy points to quarterbacks. Look for him to have another solid fantasy performance, even if it's not a great real football game.
There's hope that new offensive coordinator (and former badass quarterback) Byron Leftwich brings some life to Josh Rosen and the Arizona Cardinals when they take on the 49ers.
I know you probably aren't doubting Kirk Cousins at this point. I just want to point out what a juicy matchup he has at home against the Saints this week.
It looks like Phillip Linday may not have to share the backfield with injured teammate Royce Freeman this week, making him a great play against a Chiefs defense that gives up the second most fantasy points to running backs.
Lamar Miller finally showed up last week with 100 yards rushing and a touchdown. He might not hit those same numbers against Miami Thursday, but he seems safe to start right now.
Marlon Mack has looked healthy the past two weeks and can be confidently started against a sub-par Raiders defense.
I know you're starting Christian McCaffery, but I just want to point out that he's played 100% of the Panthers offensive snaps the past two weeks. That's completely unheard of in today's NFL.
Adam Thielen is deserving of all the fantasy love he's getting, but Stefon Diggs shouldn't be forgotten. He has nearly as many receiving yards as Antonio Brown and matches up against a Saints defense that has been getting gashed by receivers this season.
I don't have any great stats to back it up, but I have a hunch that Antonio Callaway finally gets on the same page as Baker Mayfield this week. (Fantasy analysis at it's best)
Jakeem Grant and even DeVante Parker should see an increase in usage solely based on necessity for the Dolphins, who'll be without Kenny Stills and Albert Wilson this week.
Speaking of Dolphins pass catchers, Mike Gesicki had the best game of his rookie season last week and will need to be involved in Miami's offense Thursday night.
David Njoku has over 50 yards in four straight games and a touchdown in the last two. He's the definition of a must-start tight end right now.
Both the Arizona Cardinals and the San Fransisco 49ers have terrible offenses right now, making both of their defenses startable when they play each other this week.
Must Sits
Deshaun Watson, QB, Houston Texans
Watson is averaging the 16th most fantasy points per game for quarterbacks, which by itself is lower than expectations based on where he was drafted headed into the season. He has also been hampered by a bruised lung and ribs the past few weeks. He's finished outside the top 20 fantasy quarterbacks for two straight weeks and isn't likely to be recovered on short rest when the Texans take on the Dolphins Thursday night. The Dolphins defense isn't a pushover either, allowing the ninth fewest points on average to fantasy quarterbacks. I think Watson could return to being a must-start quarterback at some point this season, but for this week I'm looking elsewhere.
Latavius Murray, RBs, Minnesota Vikings
Dalvin Cook has already been ruled out for this weeks game against the Saints, but I still don't want to start Latavius Murray. He currently sits at the 24th fantasy running back in standard scoring and 28th in PPR, and those numbers are inflated by his last two monstrous performances against the Cardinals and Jets. The Saints on average give up the fifth fewest fantasy points to running backs, so don't expect another big week from Murray in the NFC Championship rematch this week, where we are much more likely to see a high flying shootout than a ground and pound game.
Cameron Meredith, WR, New Orleans Saints
When Ted Ginn was put on injured reserve it seemed to be a toss-up between Meredith and Tre'quan Smith for the ever-valuable second receiving option in a Drew Brees led offense. Last week it became evident that Smith would win that role, and it wasn't even close. Meredith saw a season-low 18 snaps and didn't receive a single target. There were high hopes for Meredith headed into the fantasy season, but it seems clear that those won't materialize in New Orleans this season.
Kyle Rudolph, TE, Minnesota Vikings
It's tough to bench a name brand tight end like Kyle Rudolph this season, but the production isn't there. Rudolph hasn't scored a touchdown since week three and has only topped 50 yards receiving twice this season. The Vikings take on the Saints, who give up the most average fantasy points to wide receivers but the fifth fewest points to tight ends. Kirk Cousins already seems to heavily favor his wide receivers over the former Pro-Bowl tight end, and that should only be magnified this week.
Defense/Special Teams: Los Angeles Rams
The Rams have been a middle of the pack fantasy defense this year, despite the big names on the defensive side of the ball. This week they welcome in Aaron Rodgers and the Packers in what Vegas is predicting to be the highest scoring game of the weekend. The undefeated Rams may be heavy favorites, but one way or another the Packers will put up points, so it's best to find another option at DST this week.
Others to Avoid
Matthew Stafford is usually startable every week, but this Sunday he takes on a Seahawks defense that's allowing the fewest fantasy points on average to the quarterback on average, so feel free to look for better options.
I know Mitch Trubisky has been on fire the past two weeks, but I'm still not confident in starting him. (This is probably just my Cheesehead bias)
The Cardinals have been allowing the third-fewest fantasy points to quarterbacks, so I wouldn't recommend starting C.J. Beathard this week.
Nick Chubb had a fine fantasy game in his debut start with the Browns, but it'll be tougher sledding this week against the Steelers, who give up the second-fewest fantasy points to running backs.
Alex Collins hasn't topped 60 yards rushing since week three. He's a touchdown dependant running back matching up with a Carolina defense that is allowing the seventh fewest fantasy points to running backs.
At this point, the Eagles running backs are like the Patriots running backs of past years, except worse. Between Corey Clement, Wendell Smallwood (who also missed practice Wednesday) and Josh Adams I'm not sure which one will get the most work, but I don't trust any of them.
Allen Robinson doesn't seem to be fitting well in Matt Nagy's offense. He only had one catch on five targets last week, for a whopping five yards, in a game where Mitch Trubisky threw for 50 pass attempts for 330 yards.
The Ravens have been shutting down receivers all year, so I expect Cam Newton to have more success with Greg Olsen or Christian McCaffery than Devin Funchess
Eric Ebron was my must-sit tight end last week, and his situation hasn't changed this week. He also plays against Oakland, who has been above average at stopping tight ends this season. 
I hope you find this useful and I'm always happy to interact on Twitter @aalarson if you have any start/sit questions. Be sure to check out the rest of our weekly in-season content right here as we give you the tools and content to win every week of the season. Good luck this weekend!