The Chinese Giant Salamander, the Rafflesia Flower, a pub with a great club sandwich…
Due to the many repercussions of a "modern" and rapidly "advancing" world, there will soon only be normal sized salamanders, as well as, average sized flowers that don't give off a corpse-like stench and artisanal chicken sandwiches with pickled red onion and garlic pepper aioli. While alarming on the surface, the underlying trend of gradual loss (of flora, fauna, dining fads, etc.) is even more startling when one considers what else society may soon have to do without.
End of an Era
Therefore, in an effort to exemplify my point, it is quite possible that ours is the last generation that will ever see an "every down" workhorse bell-cow running back in the NFL. As the table below shows, the number of rushers with 300 or more carries in a season has declined steadily since the turn of the century. In fact, behind Adrian Peterson's 327 carries in 2015, the next highest total was 288 by Doug Martin, followed by Latavius Murray's 266. All of this would seem to indicate that future seasons will only see two to three (if any) backs hit the 300 carry mark.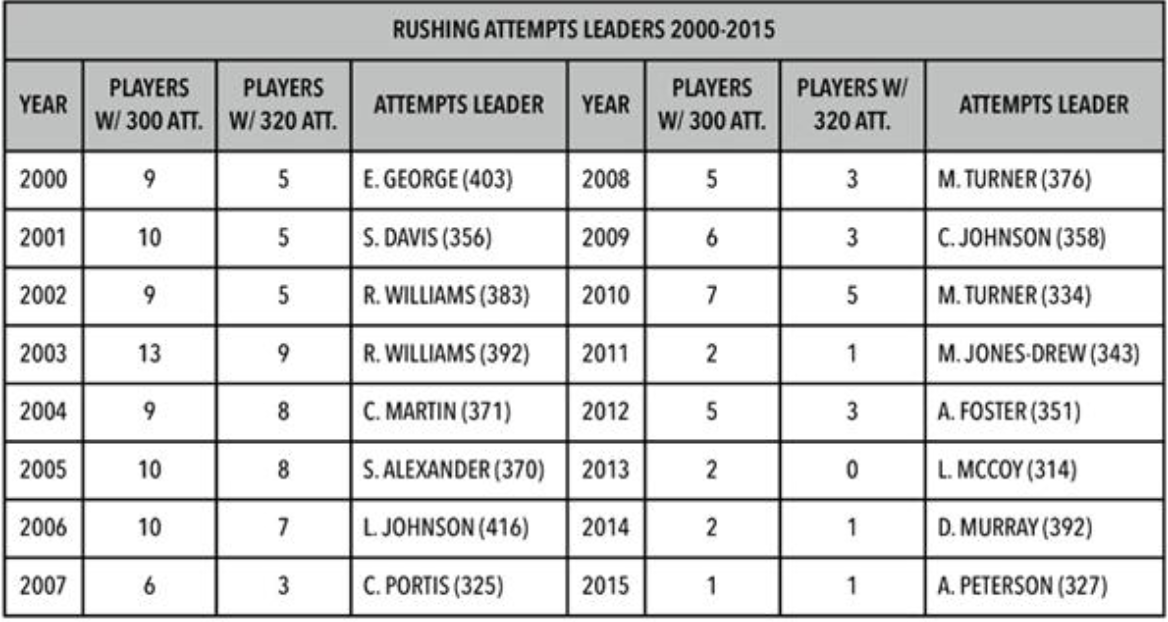 Examining the Past
Running Back by Committee is hardly a "recent" concept. In fact, the 1986 Cowboys' fielded a committee in which 32 year-old Tony Dorsett rushed 184 times over 13 games totaling 748 yards and five touchdowns, while rookie Herschel Walker (then 24) appeared in 16 games, toting the ball 151 times for 737 yards and reaching the end zone 12 times. Walker would also chip in a monstrous 76/837/2 line in the receiving game that season, compared to just 25/267/1 for Dorsett. Only a year prior Dorsett started 16 games, rushing 305 times for 1,307 yards and seven scores, leaving just 88 carries for the second highest rusher. By 1987, the roles had flipped with Walker leading the backfield rushing 209 times for 891 yards and seven scores adding a solid 60/715/1 to his receiving stats. Dorsett would take a step back with 130 carries, yielding just 456 yards and a single touchdown, while catching just 19 passes for 177 yards and a score. The following season would see the 26-year old Walker, as a full time feature back, with 361 attempts (the next highest count was Steve Pelluer's 51) for 1,514 yards and 5 touchdowns. The Cowboys' long-term strategy was clearly to spread the workload between a declining star and the player being groomed as a future star.
Therefore, whereas "RBBC" was once a strategy primarily employed to bring along a future workhorse back or by teams without a clear feature back on their roster, it has become standard operating procedure for all but a precious few NFL franchises. When we take into account the increased concern for short-term and long-term injuries coupled with the scarcity of durable backs with a true three-down skill set, it becomes obvious why the practice has gained league-wide popularity. The devaluation of the position and the comparatively low running back salary scale make it all the more enticing for teams to hedge their bets in the backfield.
Dynasty Value Impact
In the context of dynasty fantasy football, those owners with true feature backs on their rosters often hold a significant advantage over those forced to plug part of a committee into their lineups. Because of this it is crucial that owners consider a few factors when deciding which backs to roster and which backs to play on any given Sunday. The player's skill set, their role in the backfield, the talent around them and perhaps most importantly, the offensive style and scheme in which they play, are all crucial for a proper evaluation process. In regards to RBBC offensive play-calling, outside of San Diego OC Ken Whisenhunt, there is perhaps no play caller better at utilizing multiple runners than new Browns Head Coach Hue Jackson.
Hue Jackson: The Journey of a RBBC Whisperer
Speaking of Hue Jackson, let's take a little journey back in time. Jackson's first stint as an OC came under Steve Spurrier in Washington in 2003, where he was forced to trot out the underwhelming tandem of Trung Canidate and Rock Cartwright. In a season that would see Washington finish 5-11, Canidate turned 142 carries into 600 yards and a single touchdown across 11 appearances. Cartwright would prove less efficient over 15 contests, carrying the ball 107 times for 411 yards and four touchdowns. Ladell Betts chipped in another 255 yards on 77 totes. None of the trio would catch more than 18 passes. Washington went on to finish the season 22nd in rushing. The Washington backfield totaled 1,653 yards, over 1,000 yards behind leader Baltimore, who rode Jamal Lewis' 2,066 yards (on 387 carries) to a Wildcard loss. However, the blame for such a lackluster ground attack should actually not fall squarely on Jackson. Often playing from behind and already employing Spurrier's trademark pass heavy offense, Washington attempted 527 passes (11th in the NFL) compared to just 421 rushes (23rd in the NFL). The lack of talent in the backfield certainly did not help matters. 2003 would be the final year of Canidate's four-year career, while Cartwright would never rush for more than 228 yards in a season despite only failing to appear in five games between 2004 and 2011. Betts would go on to post 1,154 yards in 2006, but finish his career with just 3,326.
Continuing Jackson's journey, he spent 2004 through 2006 in Cincinnati as the Bengals' wide receivers coach before being hired to fill Atlanta's OC position in 2007. Warrick Dunn (then 32) rushed 227 times for just 720 yards, averaging 3.2 yards per attempt. He reached the end zone four times. Jerious Norwood appeared in 15 games and posted an ultra-efficient 613 yards on 103 attempts, good for 6.0 Y/A with an added a score. Despite carrying the ball 81 more times, Dunn and Norwood would only combine for 322 more yards than Jackson's top two backs in Washington. Once again, Jackson's offense failed to run the ball successfully, attempting only 385 runs (29th in the NFL) for 1520 yards (26th in the NFL).
As the Raiders' OC in 2010 and Head Coach in 2011, Jackson fielded his first talented running duo in Darren McFadden and Michael Bush. McFadden was a former five-star high school recruit, as well as a consensus All-American and Doak Walker award winner in 2006 and 2007. As a result, he was taken fourth overall by Oakland in the 2008 draft. His 223/1,157/7 line in 2010 stands as his best season to date, despite missing four games with a torn meniscus. He added 47 receptions for 507 yards and three more touchdowns, also all career marks.
Unfortunately, McFadden would not get the chance to build on his career year. After starting 2011 hot, rushing 111 times for a league leading 610 yards and four touchdowns and adding a receiving line of 47/507/3 through the first six games, he was shut down Week 7 due to an aggravation of a chronic foot condition. Whereas, Bush, who was going into his senior season at Louisville, was regarded by many as a top ten draft prospect. Unfortunately, he would suffer a broken tibia Week 1 against Kentucky and would never fully regain his form, but once he hit the NFL, he played a critical role in Oakland's backfield as the big back counterpart to McFadden's speed. Like McFadden, he would enjoy his most productive seasons under Jackson, posting a 158/655/8 rushing line over 14 games. With McFadden on the shelf for most of 2011 Bush managed a career high 977 yards on 256 carries, scoring seven times. He also adapted well in the passing game, catching 37 balls for 418 yards and a touchdown.
For the purposes of this article, the 2010 season is more telling because both backs played roughly the same number of games and functioned as a true committee with McFadden getting about 65% of the workload and primarily operating as the ball mover between the 20s, while Bush did most of his work in short yardage and goal-to-go situations. In terms of fantasy production, McFadden's 2010 stat line amounted to 267.4 PPR points and an RB8 finish. He was also the only player in the top 12 to miss at least three games, making his fantasy position all the more impressive. For his part, Bush posted 150.9 PPR points and finished the season RB27. Jackson would see his time in Oakland end that offseason after the team finished with an 8-8 record. It also marked the end of Jacksons tenure in Oakland. Upon his dismissal, many figured that Jackson's firing was more a result of new GM Reggie McKenzie (hired by Mark Davis after the death long-time owner Al Davis) wanting to install "his own guy" on the sideline, and not necessarily an indictment of Jackson's coaching.
Bengal Reunion
Ahead of the 2014 season Jackson's one-time employers, Mike Brown and Marvin Lewis, brought their former WR coach back as offensive coordinator. In terms of all-around roster offensive talent, Jackson would be directing easily the best team of his coaching career. At his disposal in the Bengal's backfield, second year third-down and change-of-pace back Giovani Bernard and rookie Jeremy Hill, who would slide into the role of early down thumper. Bernard, while not the same caliber of prep and college prospect as Jackson had in McFadden, was a touted runner entering the draft process. His final year at University of North Carolina saw him earn third-team All-American and first-team All-ACC accolades, while also taking home ACC offensive player of the year honors. He instantly rewarded Cincinnati for making him the first running back off the board in the 2013 draft by earning All-Rookie team honors after appearing in all 16 games and rushing 154 times for 730 yards and 2 touchdowns, also notching 49 receptions for another 472 yards.
Unfortunately, for Bernard, the following year the Bengals would use their second round pick (55th overall) to select Hill. Playing in a run-tough SEC, Hill was the LSU Tigers' bell-cow during his junior season, logging 203 attempts for 1401 yards and 16 touchdowns and garnering first-team All-SEC honors. His skill set would immediately translate to the NFL in his first year under Jackson, as he and Bernard formed one of the best committees in the league. Hill, in particular took the AFC North by storm averaging 5.1 YPA on 222 carries on his way to 1,124 rushing yards. He also managed 27 grabs and 215 yards.
Conversely, Bernard would miss three games to injury, but in a passing down role, saw nearly twice the targets that Hill did (59 to 32), while turning them into 43 catches for 349 yards and two scores. His 168 carries were also a season high for any "COP" back under Jackson. Additionally, he contributed 680 yards and five touchdowns on the ground as a sophomore. On the season, Hill out-touched Bernard 249 to 211 (54.1% to 45.9%). When comparing their total 2014 stats with those of a rushing leader DeMarco Murray, one can see exactly why the RBBC approach has become so widely applied.
In terms of rushing, the aggregate stats of the Cincinnati backfield nearly mirrored Murray's stats. In the receiving game, the edge goes slightly to Bernard/Hill, however Murray contributed mightily in that aspect as well. In all, Hill and Bernard combined out-touched Murray 460 to 449, and only out-gained him by 107 yards. While, Murray finished the 2014 season as PPR RB2 (behind only fellow feature back Le'Veon Bell) with 351.10 PPR points on the year. Hill would rank as RB11 (210.90 PPR points), while Bernard, despite missing three games, turned in 187.90 PPR points, tying Alfred Morris at RB17 and further proving that when the talent is present a Hugh Jackson committee is quite capable of producing two fantasy relevant backs.
Bengal's RBBC: 2015
Although Hill tied for the league lead with 11 touchdowns in 2015, he certainly did experience a sophomore regression in almost every other aspect. Bernard, meanwhile, slightly improved upon both his rushing and passing numbers from the year before (though he only managed two total scores). Despite Hill's decline in production the duo still managed to combine for 351.5 PPR points with Bernard (181.20 PPR points) finishing the season as RB16 and Hill (170.30 PPR points) rounding out the top 20. Both backs, once again, proved valuable for fantasy purposes, especially in a year that would see several several ball carriers miss extended time due to injuries or simply not perform to their draft position.
Mr. Jackson goes to Cleveland
Jackson's success, during his second term in Cincinnati, led to his being hired by the Cleveland Browns as their eighth head coach since 1999. The Brown, in the midst of yet another full rebuild, brings in Hue Jackson to take the reins. Presently, the Browns starting quarterback appears to be recently signed Robert Griffin III. Although, they did draft five receivers to help reboot a porous receiving corps and the only skill position players from the 2015 roster expected to play significant roles in the upcoming season are backfield mates Duke Johnson and Isaiah Crowell.
Hue's RBBC Options: 2016 Browns Edition
Current starting running back, Isaiah Crowell is former five-star prep prospect, and was considered the top high school running back in his class by some scouting services and top four at the position by almost all. In his first (and only) season at the University of Georgia, Crowell led the Bulldogs in attempts, yards and touchdowns earning him SEC Freshman of the Year honors. Unfortunately, a felony weapons arrest in June of 2012 led to Crowell's dismissal from UGA and subsequently led to his enrollment at Alabama State University. He went on to post two fine seasons for the Hornets before declaring for the 2014 NFL draft. Despite his pedigree and college successes, Crowell went undrafted and in May 2014 signed with the Browns as a free agent.
On the other side of the spectrum is Crowell's running mate, Duke Johnson. Although not touted as highly out of high school as Crowell, Johnson was still Rivals.com's top rated all-purpose running back prospect following his senior season. As a freshman, at the University of Miami, he took home both ACC rookie of the year and offensive rookie of the year awards, becoming the first Hurricane ever to win both. As a junior, Johnson logged 242 carries for 1652 yards and 10 touchdowns before declaring for the 2015 draft the following offseason. Johnson would leave "The U" as Miami's career rushing leader, having amassed 3,519 yards on 526 attempts. To put into perspective how impress this was, he surpassed Hurricane greats such as; Lamar Miller, Willis McGahee, Clinton Portis, Frank Gore, Edgerrin James and even Otis Anderson, who had held the total yardage record since the 1978 season. Ultimately, the Browns selected Johnson on day two of the draft (77th overall), as the change of pace/passing down compliment to Crowell's downhill slashing style.
The Reflection Perception of the Brown's 2015 backfield
Under the leadership of former head coach Mike Pettine and OC John De Filippo, however, the two managed mediocre numbers in 2015. The lone bright spot was Johnson's production as a receiver. His 61 receptions were an NFL rookie record and ranked him fourth among running backs behind only Danny Woodhead (80), Theo Riddick (80) and Devonta Freeman (73). One could easily attribute both the lackluster total rushing totals and Johnson's passing game volume to the Browns' overall lack of offensive talent and the fact that the team was forced to pass early and often to stay in most games. But, I digress, that's in the past. Let's look to the future.
What can Hue do for you?
What a difference one offseason could make. With a brand new front office in place to pair with Jackson's overhauled coaching staff (and a huge infusion of young talent) the Browns' will look to quickly change their teams culture. Jackson's approach to offensive continuity, and his commitment to using the run, to set up the passing game, should yield nearly 90-100 more combined rushing attempts for Crowell and Johnson. Jackson is also very likely to install better blocking schemes that will improve the 3.7 Y/A, the duo posted in 2015.
Identifying Opportunity
Johnson and Bernard enjoyed similar college careers, both playing in the ACC, anchoring their respective offenses (albeit briefly for Crowell) and garnering plenty of accolades along the way. Given their almost parallel stature and skill set it would be fair to say that Johnson's production under Jackson can (and likely should) be very close to the numbers posted by Bernard during Jackson's tenure in Cincy. Crowell's comparison to Hill is slightly trickier to dissect, as he saw much less talented competition in his final two college seasons in the SWAC than Hill faced in the SEC during his career. Crowell's statistics in his first two seasons as a pro (333/1,313/12) are also lacking when compared with Hill's numbers (445/1,918/20) in the same time frame.
The Bottom Line
It's important to note that despite their offseason roster overhaul and plethora of extra picks taken, the Browns opted to forego adding a running back in April's draft. Shortly thereafter, Jackson even publicly endorsed his young running backs, saying "Their talent is extreme." He added "Duke has the suddenness and quickness and he can go catch the ball with anybody… He does so many different things that gives your offense a boost." He went on to say of Crowell, "Obviously Isaiah is very explosive. He's got quick feet, he's fast in the hole, he runs with a good pad level." Considering that this is the time of year when coaches are traditionally optimistic regarding their rosters, one should still take these comments with a grain of salt. However, when factoring in the lack of backfield additions one can also assume that Crowell and Johnson will be given every opportunity to set the tone for a team sporting a quarterback that saw no snaps last season and five rookie receivers (assuming Gordon isn't reinstated).
In the end, it is easy to be skeptical of Crowell and Johnson's ability to both post top 20 fantasy numbers, ala Hill and Bernard, but Jackson's track record has all but earned him the benefit of the doubt. If anyone can produce two RB2s in the Browns' backfield, it's going to be Hugh Jackson. Oh and by the way, in case you don't know who RB Terrell Watson is, you better get educated now. He is a diamond in the rough who could also carve out a role in the Brown backfield in 2016, as he was a handpicked carry over from Jackson's days in Cincinnati.