JOSH IMATORBHEBHE, WR, USC
6'2" 210lbs
USC
Hometown: Suwannee, Georgia
High School: North Gwinnett High, Georgia
Age: 19 years old
Redshirt Freshman
It's not very often in life that you get to follow your dreams with your brother by your side. For Josh and Daniel Imatorbhebhe, this is the case. Daniel will be entering his sophomore year at USC as a productive and reliable tight end, while Josh is beginning his redshirt freshman year at wide receiver for USC. With Daniel already making a name for himself in the Trojans offense, Josh is anxious to get on the field and make a name for himself as well.
Josh is an immense talent, but before jumping into his film study and measurements, one must accomplish saying his last name correctly. It is pronounced Ima-tor-bhe-bhe. Not only is he a great talent but he has one of the best last names in college football.
Josh hails from Suwannee, Georgia where he attracted recruiting attention out of North Gwinnett high school. As a junior at North Gwinnett high, he was very productive with 59 receptions for 1,072 yards and 15TDs averaging 18.2 yards per reception. As a senior, he made the 2015 Prep Star All-American Dream team and also posted a 66-yard rush, threw a TD and averaged 19 yards on 5 kickoff returns as a senior according to usctrojans.com.
Josh was once a leader on the North Gwinnett basketball program. He dreamed of playing in the NBA as a kid, but that would all change during his high school freshmen season. He decided to focus completely on football and follow in his brother's footsteps. This path would lead him to play side by side with Daniel as a USC Trojan.
WHAT MAKES JOSH IMATORBHEBHE SPECIAL?
Athletic Ability:
It's one thing to be 6'2″ and 210 lbs at the age of 19. Imagine having those measurables AND adding in a 46 inch vertical. That's right, he posted a 46-inch vertical at the 2015 Opening. This amazing feat added to what is an incredible 136.02 Nike Football rating putting him in the 99th percentile of all Nike athletes tested in 2015.
Imatorbhebhe ran 4.49 second 40-yard dash, 4.26 shuttle, and 41 foot Powerball. His elite athletic ability and solid frame promise a very high upside for Josh and his potential at the college level. With Sam Darnold under center for the Trojans, the sky is the limit for Imatorbhebhe.
Size and Body Control: 
Imatorbhebhe's thick frame and athletic build stand out on tape. He has the body structure to hold up against better defensive competition. He uses his frame well to rise up and fight for contested catches, boxing out defenders. He also displays an alpha attitude which manifests when the ball is in the air or he is fighting off oncoming tacklers. He drags whoever is attached to him in order to gain YAC.
His body control is very good as he shows he can maintain very good balance and leverage at the catch point. Imatorbhebhe contorts his body to adjust to the ball and pull in the throw. He extends his body showing excellent length and strong hands, catching outside his frame. He also displays good concentration and awareness at the catch point.
Imatorbhebhe shows good functional strength to catch the ball in traffic and maintains balance throughout the catch. A talented ball tracker, he is able to win against man coverage and is trusted to get down field and win the deep ball.
Agility and Lateral Quickness:
An underrated part of Imatorbhebhe's game is his ability to adjust his play speed and showcase plant-and-go separation. He can down shift his speed to plant his feet and make a very good adjustment to the ball making him effective on out routes and comeback routes.
He does a nice job of selling double moves and head fakes to leave defenders trailing. Proven to beat the inside leverage of the defender.  Shows fluid and natural lateral movement to plant his foot and generate enough effective power to burst laterally, leaving defenders on skates.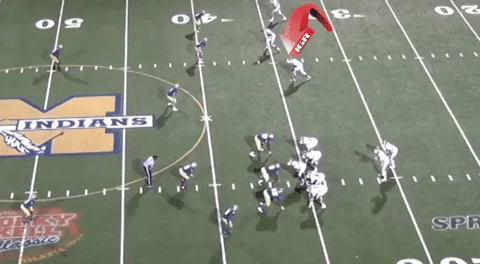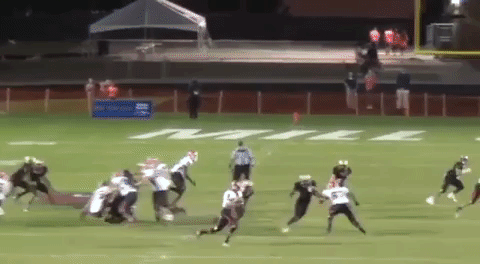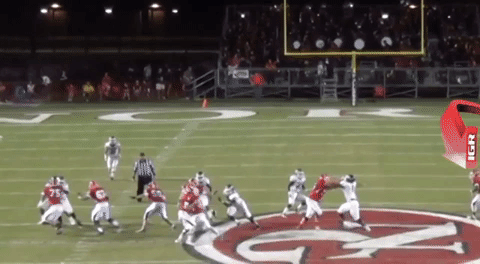 WHERE HE NEEDS TO IMPROVE:
Route Running: 
With all the physical traits to be an effective route runner, Imatorbhebhe's route variances could plague his development until he learns a proper route tree. This is all part of his development and he does show very good ability to sink his hips to make sudden breaks in his routes.
The timing of his breaks and separation on intermediate routes will need improvement. He rarely used his hands against press and man coverage, and he lacks the initial footwork and acceleration to gain initial short yardage separation.
THE END RESULT
There is much to get excited about when projecting what Imatorbhebhe's upside could be. He has immense athletic ability and all the physical traits are there for him to be successful. He doesn't possess outstanding speed but uses short area strides with methodical gear changes to gain speed throughout his vertical stem very well.
Projected to be behind RS-JR WR Jalen Greene, Imatorbhebhe likely becomes the starter if anything were to happen to Greene. He has had setbacks during the spring with an illness and then a shoulder injury which could delay his on field presence in 2017. Regardless, he has raw talent and untapped potential. Once he gets his shot, the sky is the limit. He is the perfect late round devy prospect due to his athletic upside in a high-powered offense