Nick Chubb, whom will be entering his senior season this fall, is not a new name on NFL Draft and Devy radars. He spent his first year at Georgia backing up current NFL star Todd Gurley and has spent these last 2 seasons starting for the Bulldogs, although he has battled his fair share of injuries. The Georgia running back is very similar in style to New England's LeGarrette Blount, powerful, with great vision, but a lack of early yardage athleticism (agility and acceleration) along with uninspiring breakaway speed (not necessarily a weakness, but also not a strength). Chubb could have certainly entered the 2017 draft but has chosen to return for one more season. Although the Georgia running back won't become an NFL player until the 2018 season, Chubb is certainly someone you should be keeping an eye on, and I'll tell you why.
Strengths
The first thing that you notice with Chubb off the tape is how great his vision is. He is very patient and excellent at reading his blocks to find creases. Another strength Chubb has is his great power, he weighs in at 5'10" and 220 pounds and is often a bowling ball on the field. With his combination of vision and power, in which he is similar to Blount, Chubb should be very solid and consistent in his NFL career. Seven and eight-man boxes, while becoming less and less popular in the NFL, are still very relevant and probably always will be. And with Chubb, you should have a running back that is more immune than most to them. Chubb should be able to add some real fantasy value as he should be an ideal goal line back for whoever drafts him. Lastly, his value as a blocker is noteworthy, not only is he strong enough, but Chubb shows very sound technique that should help him translate to the NFL rather smoothly in that department.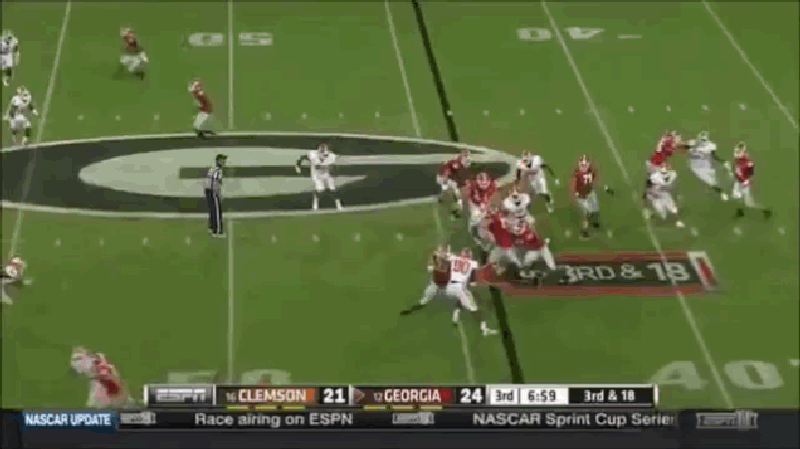 Weaknesses
Chubbs biggest weakness is his early yardage athleticism. That's the bottom line. Not to say he isn't quick or agile, but it is behind the rest of his game. As with a lot of big backs, this can be a career-long trouble. Like I said earlier, top end speed won't necessarily be the thing that holds Chubb back, but it is something to keep an eye on. Receiving, which is so important to any RB in today's NFL, is another concern with Chubb's game. He hasn't been utilized as a pass catcher in Georgia's offense very often, so we'll see if he can find a way to produce receiving yards in the NFL. The good news, however, is that Chubb's strengths combat his weakness quite well. Vision is the most underrated skill in terms of busting long runs, it's a lot easier to get to the second level and beyond when you can read the defense.
Summary
At the end of the day, I see Chubb as a third round talent in the NFL Draft. Not a Day 3 RB (rounds 4-7) because his combination of vision and strength show too much potential, but not a first rounder because he lacks the sharp quickness and turbo speed that backs such as Cook and Fournette have. Can the Georgia running back be the primary ball carrier on an NFL team? Absolutely. But it's not a guarantee. However, look no further than Chubb's comparison to LeGarrette Blount to see some fantasy potential, after all, Blount ranked 7th (espn.com) among all RBs this season and has carved out a really important role in one of the best offenses in the NFL. Chubb is about as solid of a back as they come, and it's difficult, to sum up his game any better than that. His potential, which is hampered by his lack of athleticism, is relatively low considering his floor, but expect him to have a nice career nonetheless relying on his power, size, and vision, which he has an abundance of.
Best Case Scenario Pro Comparison: LeGarrette Blount, New England